Lead generation
Lead generation entails all actions performed to attract and reach new potential clients. This usually is a combination of outbound and inbound lead generation strategies.
Outbound focuses on actively reaching out to potential customers. Like paid advertising, cold calling or emailing people that aren't customers yet. You can see very good results on the short term and outbound lead generation is good strategy to quickly gather new prospects. The downside is that it is mostly short-term focused.
And this is where inbound lead generation really complements the outbound approach. Inbound strategy focuses on the longer term and creating a quality experience for a potential customer. Using techniques like personalized landing pages, content marketing, search engine optimization and conversion analysis.
The combination of both inbound and outbound lead generation drives the best results to attract new leads.
Lead generation for B2B
Above mentioned lead generation strategies can be used in B2B and in B2C context. But there are fundamental differences in the process.
In B2B markets the buying process is often longer and more complex than in a B2C environment. The efforts in B2B are focused on generating leads that are qualified for the sales team to follow up. While in B2C the focus often lies in generating a direct conversion (eg. a purchase on the webshop).
A buyer in the B2B market has complex buyer journey and almost 50% of the time is spent research potential solutions and potential suppliers. By offering your buyer persona the right content at the right time you can gradually lead the B2B buyer down the lead generation funnel.
B2B lead generation services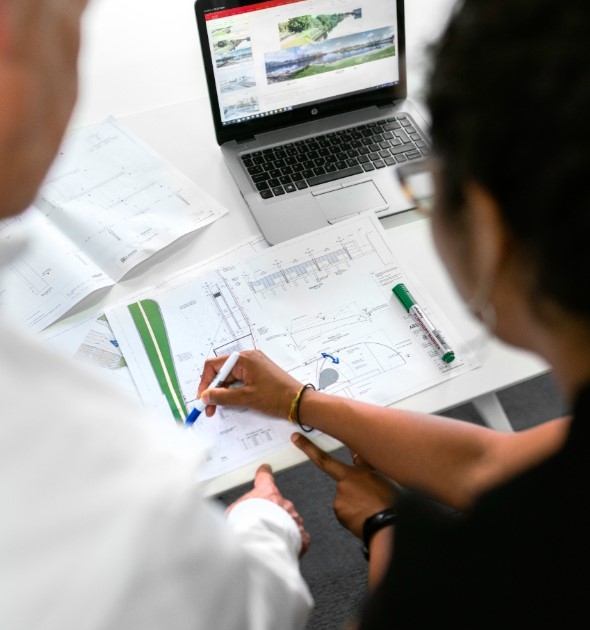 We see lead generation as an overarching term for different disciplines in inbound and outbound marketing. Our lead generation contains following services:
Research of the buying journey, the target audience and creation of a buyer persona
Set goals and develop a measurable lead generation strategy together
Search Engine Optimization (SEO) to attract more leads via Google
Paid advertising with well-thought out advertisements on your digital channels
Website conversion optimization (CRO)
Content marketing (content strategy and content creation)
Email marketing
Lead nurturing strategy and marketing automation (with tools like Hubspot and LeadInfo)
Performance monitoring and optimization
Working with the customer in mind
For all lead generation services we always keep the customer central in everything we do. Ultimately you want to position your company as the go-to company in your expertise and you want to focus on the long term relationship with the clients. Lead generation works best when you genuinely want to help your (potential) customer. Weblevels is here to support your team in all the lead generation efforts and provide expertise in every step of the journey where necessary.
Contact us to talk about B2B lead generation